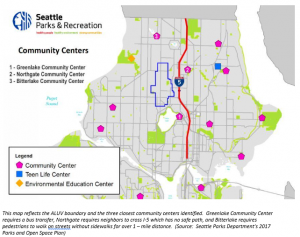 Help us bring the dream of a local community center to reality. The ALUV area, outlined in blue on the map, was designated a Residential Urban Village in the late 90's and to date the only community space provided is the Licton Springs Park. As a community we need a gathering place to foster community involvement and enrichment. The first step to achieving the dream is a Feasibility Study.
Please email your support for Councilmember Juarez's budget request for a community center feasibility study to the Seattle City Council council@seattle.gov prior to OCTOBER 25th. Below is a sample email template for your use.  Please blind-copy auroralictonuv@gmail.com so we can track our advocacy efforts.
Also, if you are available, please attend and voice support at the Budget Hearing on Tuesday, October 22nd starting at 5:30 pm at City Hall (600 4th Ave). Sign in starts at 3:00.
Email Template:
SUBJECT:  2020 Budget: Funds for a Community Center Feasibility Study
Councilmembers,
My name is [INSERT NAME] and live [in] OR [near] the Aurora Licton Springs Urban Village.
I am writing you in support of Councilmember Juarez's request for funding a community center feasibility study.  This small budget item would go a long way for one of the eager and growing communities in Seattle.  ALUV is a dense, diverse neighborhood serviced by great transit and goals for a safe walkable community.
But, ALUV is a community center island and Aurora Avenue needs a spark.  A community center would engage the neighborhood and become a catalyst for community involvement.  Currently, the nearest community centers for ALUV are in Green Lake, which requires a bus transfer, Bitter Lake, which has no sidewalks or safe walking paths to access, and Northgate, which requires residents to cross Interstate 5 among other unsafe heavy car streets.
We request funding that explores feasibility of an ALUV community center.  A community center will help the diverse backgrounds of District 5 which include many residents of multiple languages and economic makeups. This project will invigorate the city's forgotten stretch and bridge the gap between the two neighborhoods on either side of Aurora Avenue.
I encourage the city to continue the promise of providing city services for its dense urban villages.  Please include a budget item that allows the city to conduct a feasibility study to prove this project's importance and viability.
Thank you,
_____________ (name)
Address
Please follow and like us: