Friends and Neighbors,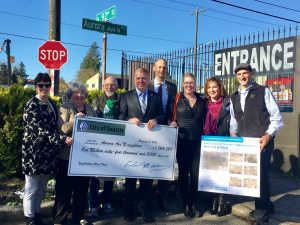 This has been a very busy year for ALUV and 2017 is shaping up to be even busier. Be sure to follow us on Facebook and join our email list on our website for updates.   Join us as we meet the second Thursday of every month at Lantern Brewing (938 N. 95th Street).   Please stop by, say hello and learn more about us.
January – Received a City of Seattle Small Sparks grant to create our website www.auroralictonuv.org
January – Participated in UW Landscape Architecture/Urban Planning project (Capstone) community meeting.
April – Submitted for Neighborhood Parks and Street Fund (NPSF) Grant.   The top 3 applications moved on to next step, we came in fourth  out of 15 applications.
May – Lead neighborhood organization of Mayors "Find It/Fix It" Walk.
May – Submitted for a Neighborhood Street Fund Grant for pedestrian and improvements to Aurora Avenue.
June – On the one year anniversary of our formation we obtained voting membership status on the NW District Council.
June – Our second year hosting a booth at the Celebrate North Seattle event at the Oak Tree Plaza.
September – Obtained Mayor's "Find It/Fix It" grant for artwork installation on the Aurora Avenue Pedestrian Overpass at N. 102nd Street.
October – Hosted our first fundraiser.
November – Submitted an "Only in Seattle" grant to the Office of Economic Development (OED) to help organize the business district
November –  Received a check from Mayor Murray for our joint Neighborhood Street Fund (NSF) Grant of $1 million+ for improvements on Aurora Ave, including new crosswalks, art, and a potential pedestrian signal at N. 92nd Street for students crossing Aurora to get to the new schools at 90th.
November – Provided significant input at the City's community forum on proposed zoning changes to the Aurora-Licton Springs Urban Village.
Throughout the year we have:
Developed and maintained relationships with City Departments, and Councilmember Juarez's  and Councilmember Johnson's offices.
Adopted  bylaws and elected officers and board members.
Had two members appointed to the Mayor's HALA Focus Group.
Advocated for HALA zoning changes from Commercial 1 and 2 to Neighborhood Commercial (NC) on Aurora Ave.
Began drafting neighborhood design guidelines for our urban village.
Provided comments at several City  Design Review meetings for large projects proposed on Aurora Ave.
 PDF for Printing – ALUV 2016 Year in Review
Please follow and like us: