Meet your neighbors and help us plant 3700 daffodil bulbs.
As part of our art installation underway at the N. 102nd pedestrian overpass at Oak Tree Village we will be planting daffodil bulbs. Rain or shine we will meet at the site. Wear heavy gloves and yard shoes. Bring your own planting tools: shovels, trowels, hand clippers (for cutting ivy roots) and rain gear if it is wet. Please RSVP on Facebook for updates.
Saturday, November 17, 2018: 10:00am-4:00pm: Ground Preparation
Sunday, November 18, 2018: 10:00am-4:00pm: Plant 3700 Daffodil bulbs
Hope you can join us and make this community effort a success!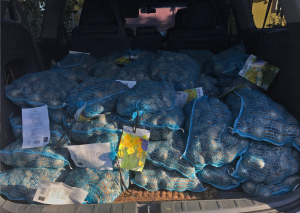 Please follow and like us: