2017 was yet another productive year for ALUV, and 2018 has already shaped up to be busier than before as media and other attention to our "little group that could" increases!
Follow ALUV on Facebook and join our website email list for ALUV updates.   We also welcome and encourage everyone's attendance at our monthly meetings on the second Thursday of each month (7:00pm).  Our new meeting location is the Epic Life Church (10510 Stone Ave N.).   Stop by to learn more about us and how you can support advancing the needs of residents and businesses in our neighborhood.
2017 Achievements
January/February – Two ALUV members continued representing the urban village on the City's HALA focus group.
February/March  – ALUV members spent two days on the Public Art Advisory Committee (PAAC) to review all submissions, interview finalists and select the artist for the Neighborhood Street Fund (NSF) grant.
June – ALUV hosted a public meeting with artist Vicki Scuri who was commissioned by the Seattle Office of Arts & Culture (ARTS) for a series of site-specific artworks for the Aurora-Licton Corridor NSF Project.
July thru October – Implemented our  "Only in Seattle" grant from the City of Seattle Office of Economic Development (OED) to help organize the business district. Online surveys, in-person interviews and focus group meetings were held. Final Report
July – Hosted public outreach booths at the Seattle Police Department North Precinct Community Picnic and Councilmember Juarez's Live in D5 Event.
October – Mayor's "Find It Fix it" grant implemented with murals installed on the Licton Springs Village Homeless Encampment fence along Aurora Avenue.
October – City Council passed moratorium advocated by ALUV on certain regional serving and auto-oriented uses in the Urban Village.  ALUV also submitted a grant application to the Seattle Office of Economic Development to continue business outreach in 2018.
November – Hosted a Community Open House to update and engage community members on current initiatives and present the final design for our art installation at the N. 102nd pedestrian overpass. (see concept rendering below)
Throughout 2017 ALUV:
Had a member appointed to the Licton Springs Village Homeless Encampment Community Advisory Committee (CAC) and attended monthly meetings.
Submitted comments on the HALA Draft Environmental Impact Statement.
Held monthly meetings featuring guests from the Seattle Police Department, Councilmember Rob Johnson's staff, and others.
Became a member of the new District 5 ("D5") Community Network.
Became a member of Councilmember Juarez's District 5 Business Coalition.
Became a member of the Seattle Police Department North Precinct Advisory Council (NPAC).
Continued drafting Urban Village neighborhood design guidelines.
Testified at various City of Seattle Design Review Meetings.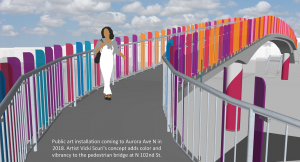 Please follow and like us: