Monthly Meeting – Thursday, Nov. 9th, 7:00-8:30 pm
Joining us this month is Mary Aberg, Crime Prevention Coordinator for the Seattle Police Department. This is a great opportunity to discuss and devise workable and collaborative strategies for the neighborhood to promote a clean, safe and activated pedestrian environment. Meeting Location: Epic Life Church at 10510 Stone Ave N.
Community Open House – Sunday, Nov. 12th, 2:00- 3:00 pm
Please join us to learn about the future art installation on the N. 102nd street overpass, the results from our business and resident outreach survey, the history and next steps regarding the interim controls recently passed by the city council, and more! Bonus, you're afternoon has freed up since the Seahawks aren't playing.
Event Location: Lantern Brewing at 938 N. 95th Street.  Kid and pet friendly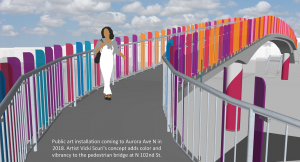 Please follow and like us: